THE YEAR OF THE REBOOT
This October will mark a turning point in Bilal Hassani's career
when he releases his new album "Théorème". He, or she - as
he sings in his latest single "Il ou elle" - has already lived 10,000
lives in today's disposable starlet ecosystem, but he's at last,
on track to achieve the musical credibility he desires.

Bilal Hassani is a only 22 years old and yet he/she – has already released 3 albums, is a familiar face from the French versions of both The Voice and Dancing With The Stars, has represented France at Eurovision – somewhat controversially – and finally, has infiltrated the haute-couture world with his stiletto-wearing ability. All he needed was a solid record to add pop culture king/
queen to his resume, a task now checked off with "Théorème", recorded with Grand Marnier – from the French electro-pop trio Yelle - icons of the electronic music scene.

"2022 has been a reboot year for me. I needed to be more in tune with my artistic self, something I had lost to this business along the way. In many ways, this album is the beginning of my life as an artist".


Bilal is the first to admit that he never spoke so personally about himself before he started working with Grand Marnier.

Their partnership has resulted in a badass romantic sound on this debut album. It should be noted that this "badass" vibe is likely there to offset the glares and criticisms of a culture not quite ready to welcome the Hassani phenomenon, and more eager to judge and to stigmatize queerness. In an era marked by the quick-pace of social media, there is little time for artists to explore and discover themselves, Bilal has faced many obstacles in his attempt to break free of gender, at a time when France had not yet produced its own version of the Drag Race [...]

PHOTOGRAPHER CLÉMENT DEZELUS @clementdezelus @dmbrepresents // CREATIVE DIRECTOR AZADEH ZORAGHI @azadehzoraghi // STYLIST NIKITA VLASSENKO @nikitavlk // MAKE-UP ARTIST LAURIE BARALLE @laurievanbmua // WIG AND NAIL CREATIONS KEVYN CHARO & GABRIEL BASSEUR @kevyncharo @gabhykiing // SET DESIGNER MARISOL SANTANA @mar__y_sol // DOP THEO SANCHEZ @theosnz // LIGHT HUGO SANTOS @hd_beta // PHOTO ASSISTANT TIMOTÉ MÉVELLEC @timote_mev // PRODUCTION NARCISSE AGENCY @narcisse_agency
Find the rest of the interview by buying the magazine in physical or digital version.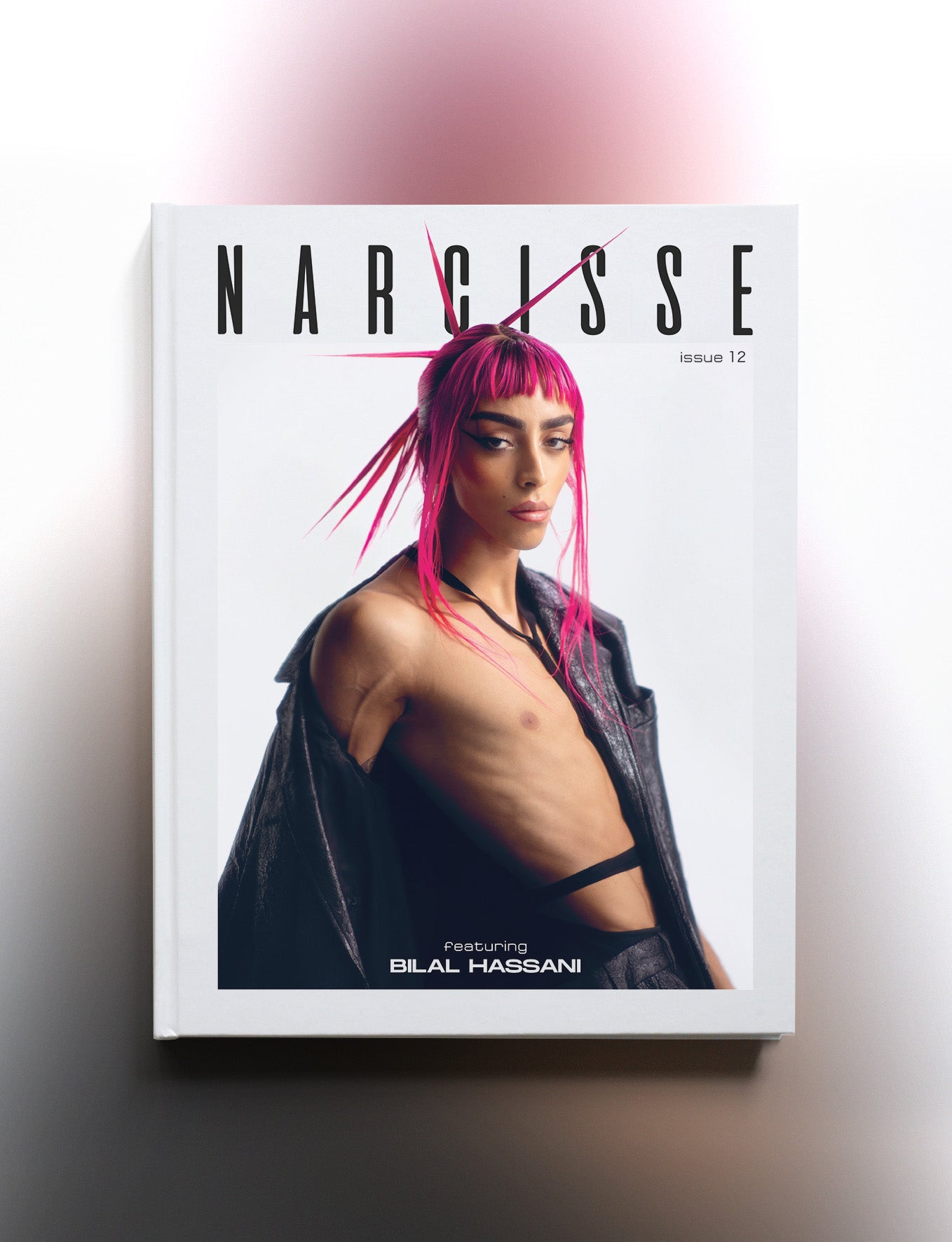 BILAL HASSANI
Regular price
Sale price
€20,00
Unit price
per
Sale
Sold out
Share
View full details